If you would have asked me where I would want to go on my dream vacation I would have probably answered Ireland, Pacific North West, or Chicago (which are still are only list.) Hawaii however would have never been on my list, it always seemed so touristy, basic and I don't like the heat so…? Now, after going for 5 days I can really say I misunderstood this state, this culture and I have opened my eyes to a different way of living. Before I get ahead of myself let me start from the beginning..you ready? Grab an iced tea and join me on story time…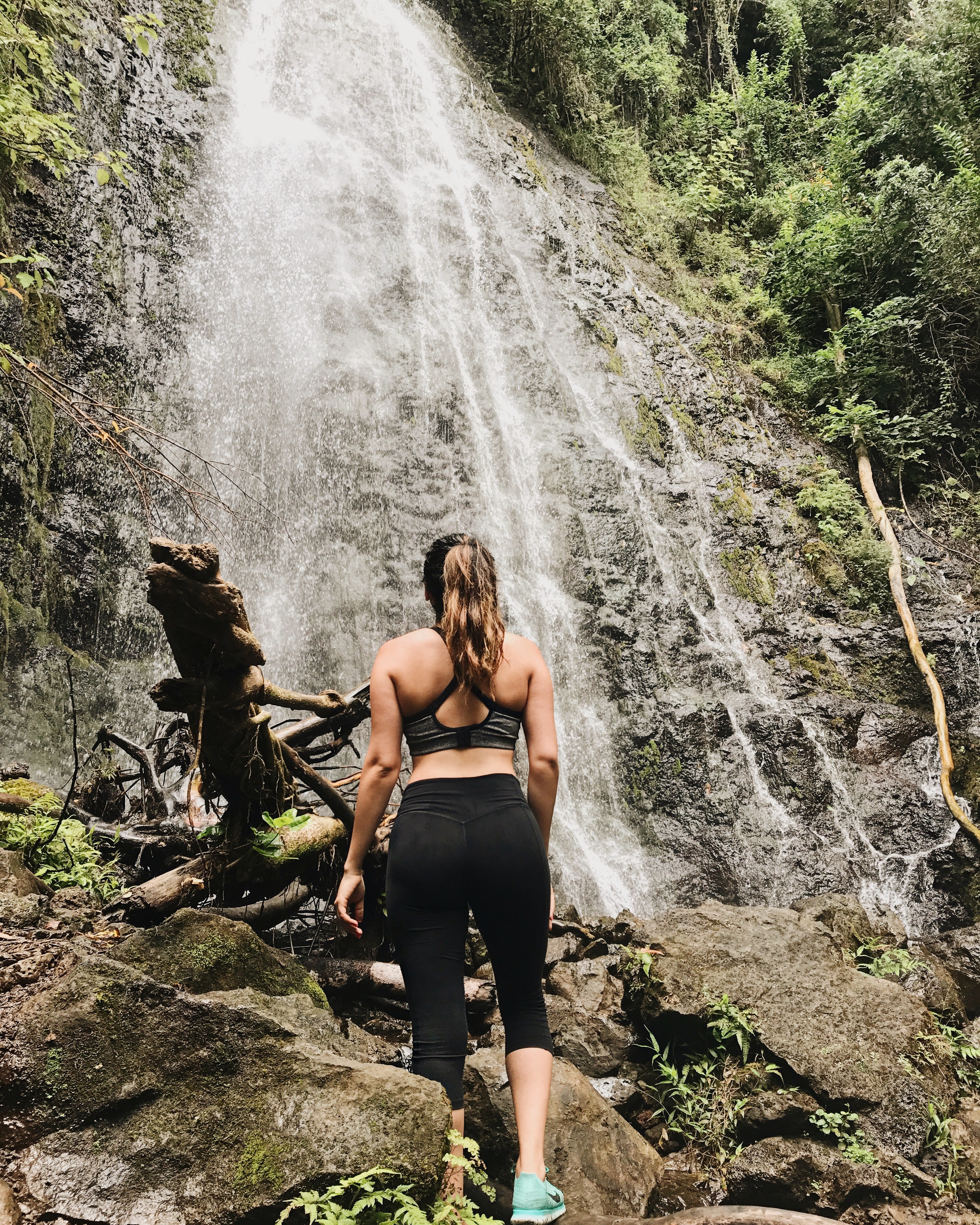 Im not gonna lie it was probably one of the most treacherous hikes I have ever done. It was easily 98 degrees but 100% humidity, it started raining so the mugginess was out of the roof and of course I was getting eaten by mosquitos all the way up. Sounds magical right? Well, it somehow was! Imagine yourself being in a forest where everything around you is green all green everywhere you look and as you get higher up the mountain you hear a waterfall that is slowly getting louder and louder until finally you arrive and there it is. This massive waterfall so high up and powerful that you get the chills! AHH, twas a perfect first day on the island. (Except the part where we had Hawaiian cops waiting for us at the entrance and fined us for trespassing hahaha locals said it was simply bad luck when they catch people. oh well!)
The next day we went out Waikiki Beach, now this was the most touristy part of the island furrier! To be honest, we were fans at all! We were there for about an hour and left only because we were looking for more secluded areas and the beaches there were crowded, cold and rocky. Blah! We decided to go check out Aulani instead, for those that don't know this is the resort owned by Disney. We figured since we weren't staying at the hotel we were going to have a tough time getting in so our hopes weren't very high..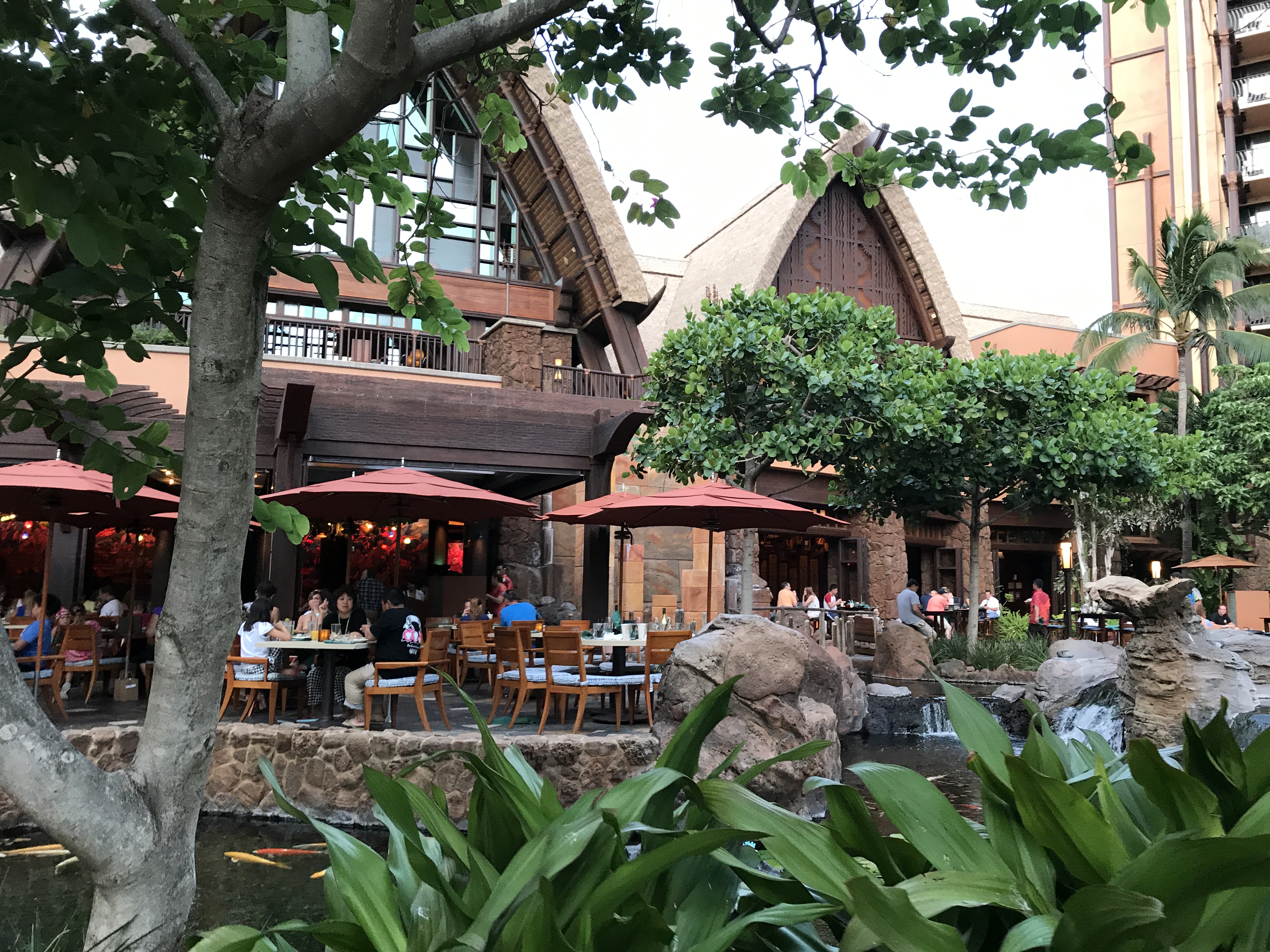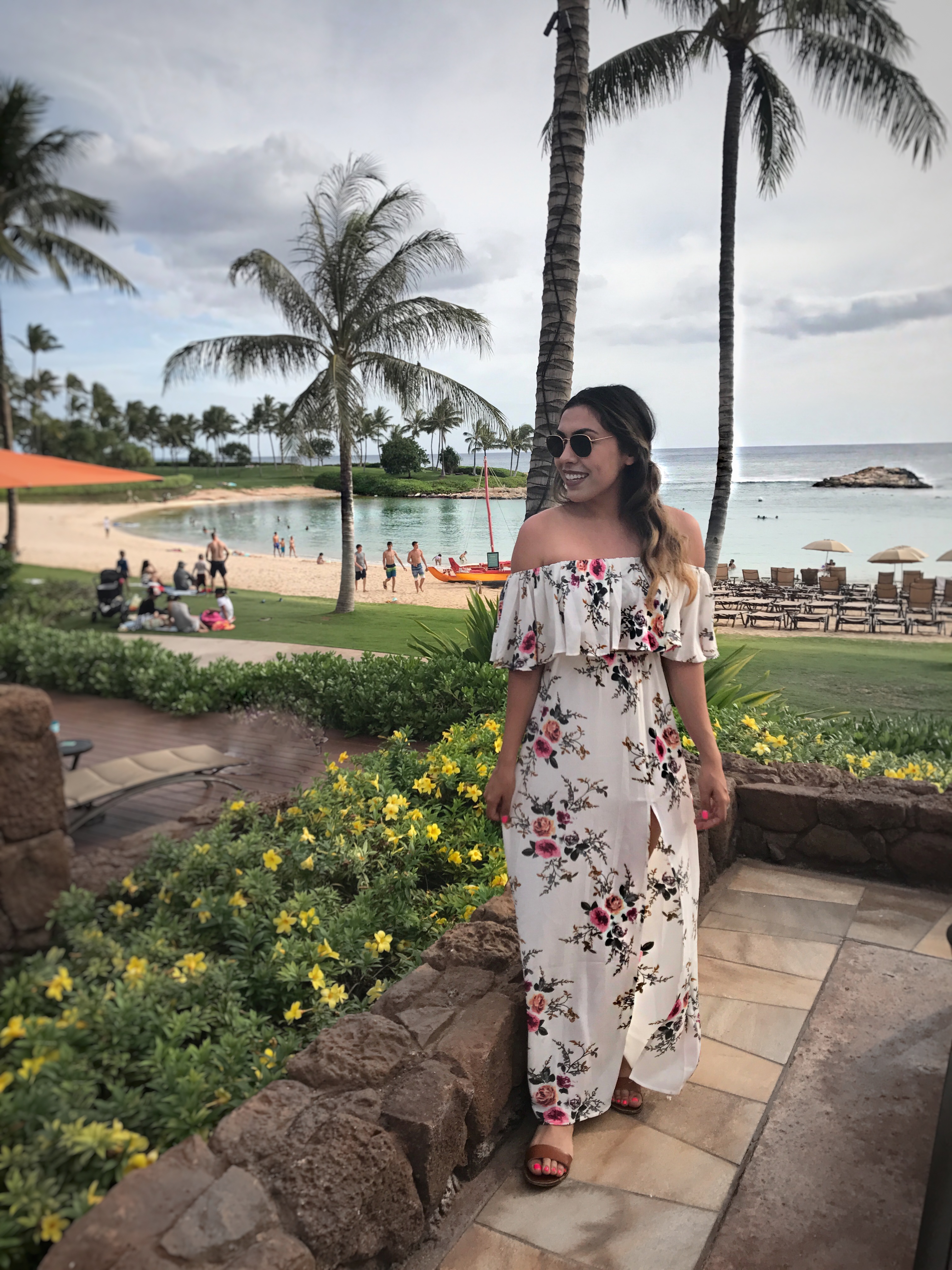 But boy were we wrong! We simply parked in the visitor parking lot, and walked right into the resort! Everything was open for us to explore, the pools, the bars, restaurants and their very own private beach! We were swooning over the soft sand, warm water and overall relaxed feeling we were receiving. In fact it was so wonderful that we made the drive out to Aulani two days in a row! The first night we had dinner and watched the sunset, the next day we were on the beach all day laying out and enjoying the day. I don't think Ive felt this happy in a very long time…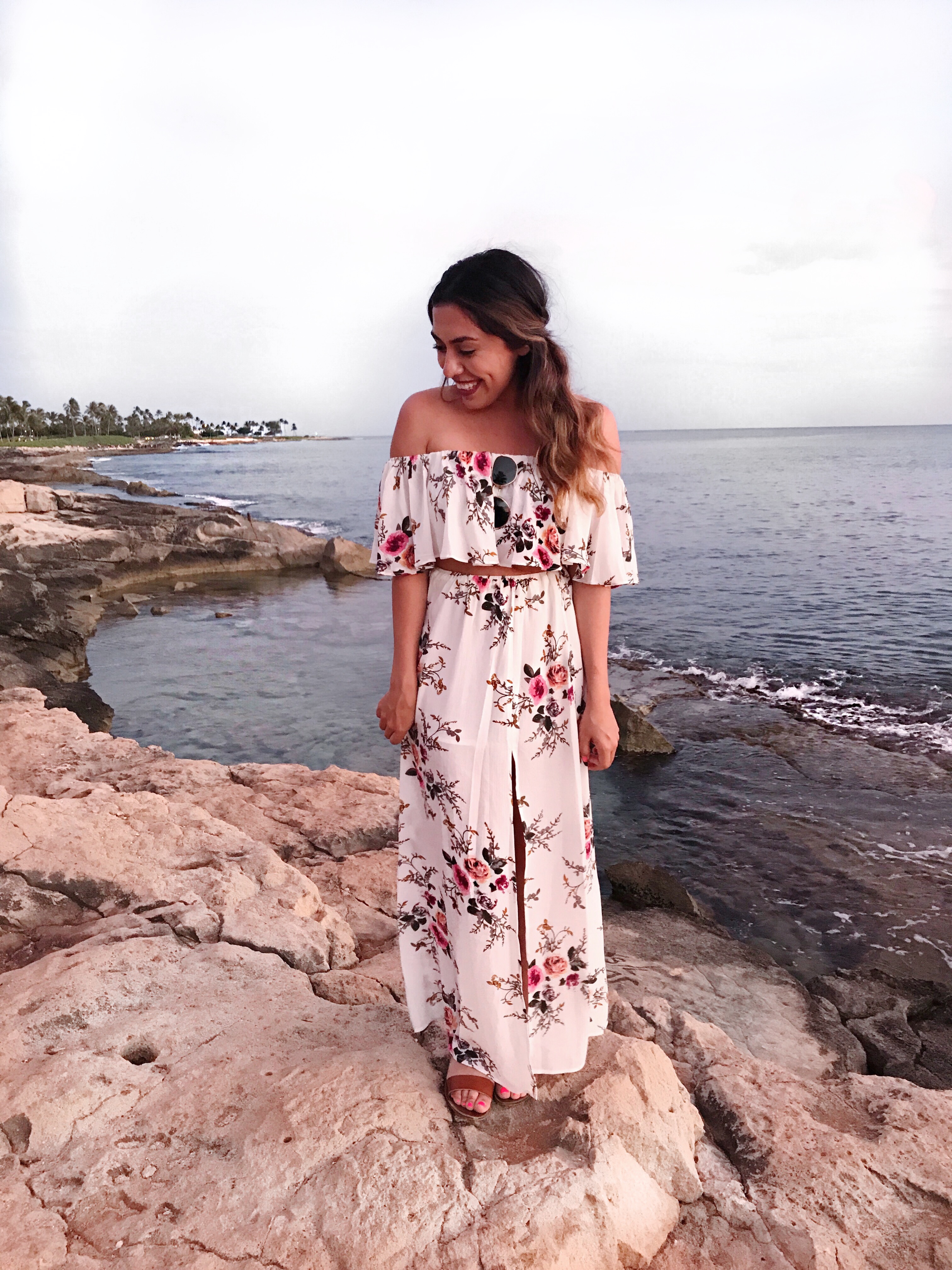 You see, when I said I found a different way of living, I meant it. When you look around, most people just seem more relaxed, more at peace with life. In fact I slowly started feeling as if all this stress I had been carrying around was slowly being evaporated. My hair was frizzy and the baby hairs were a mess but who cares, I barely wore any makeup….pretty much just mascara and chapstick, and a bikini was all I wanted to wear. Thats it, but no one cares, no one is judging and it made me really happy and in fact it made me more confident in my own skin.
At one point on the photo above I was on the edge of the island, the edge! It was a surreal moment knowing that ahead of you lies nothing but ocean. It was as if a part of me just said, "girl you just hit a milestone in your life, you're almost 25 and although you may not be exactly where you want to be in life, this is where you're supposed to be in this moment in life. Now enjoy it."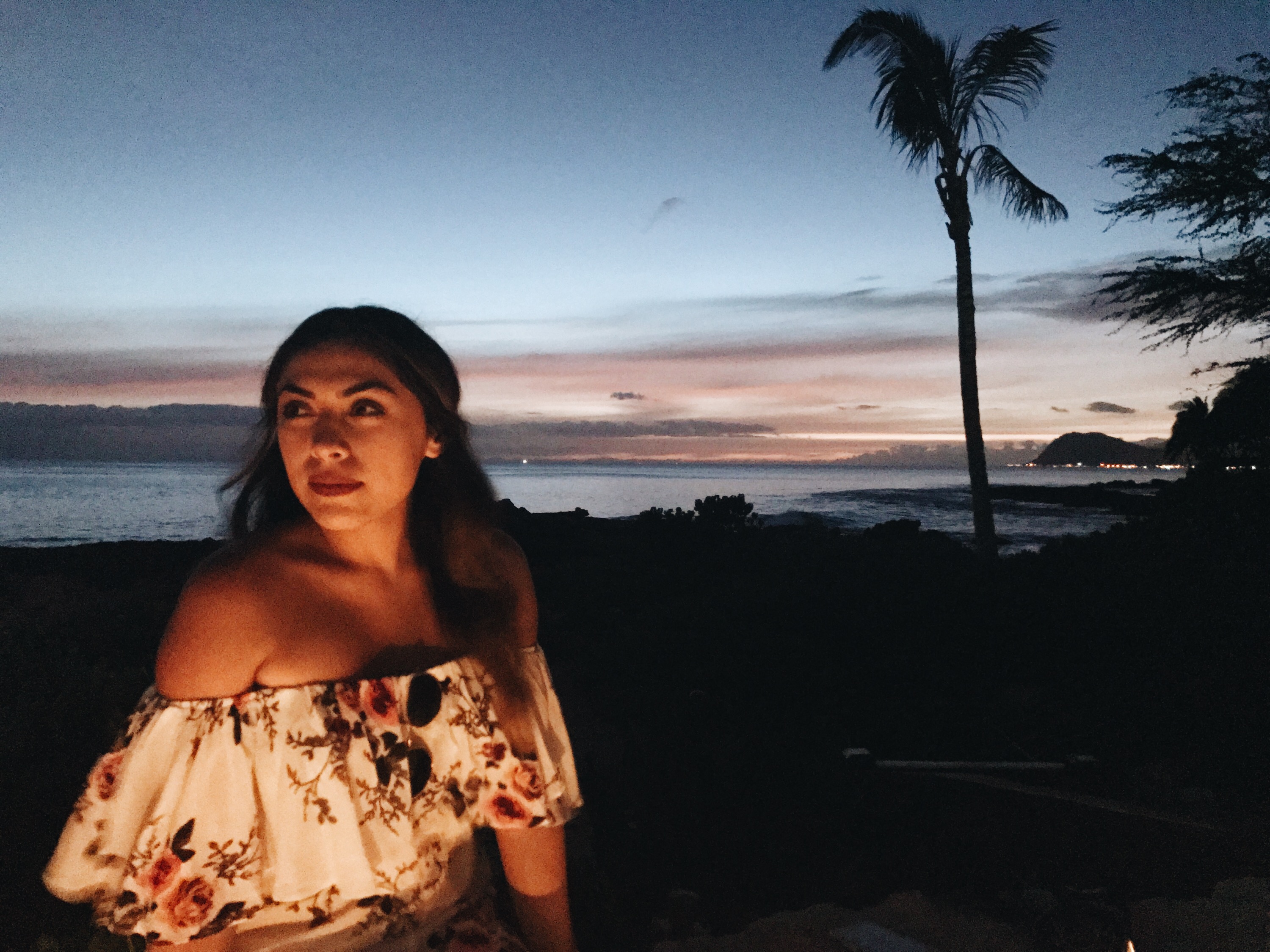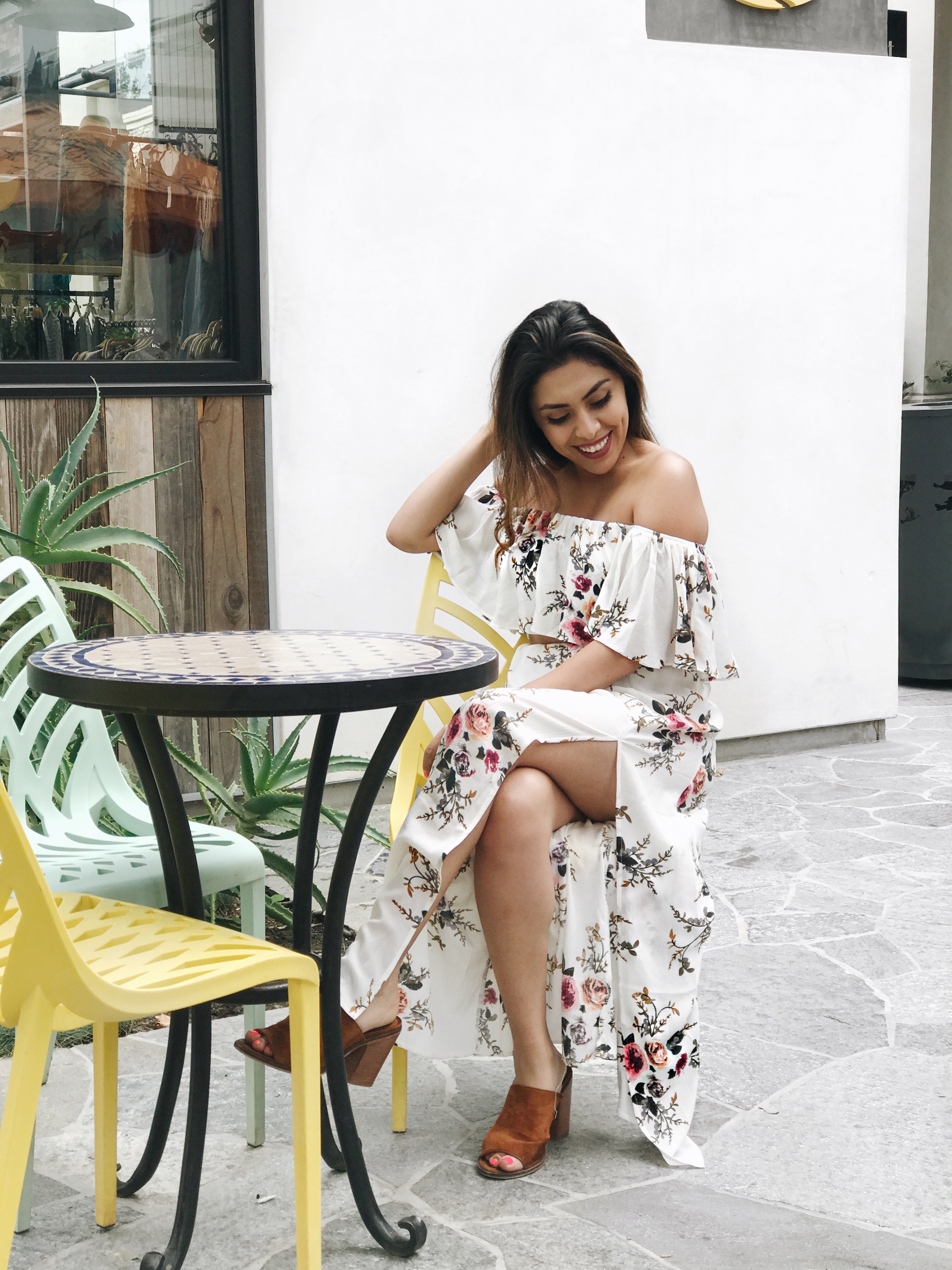 I did. And I am extremely grateful that I had this opportunity.
Im sorry I didn't take many outfit photos this trip, I truly did live in a bikini and just enjoyed the moments in person instead of taking photos. However, for the first night in Aulani I did wear this two piece set from SheIn and I got so many compliments! It was light weight and perfect for the heat, it has a slit which I love, and the off shoulder top was extremely comfortable! I have linked the dress below for you and my next post will be a review/wish list talking all about SheIn because I've gotten tons of questions asking about them, so stay tuned for that and thank you as always for coming along and reading along!
xox,

SaveSave
SaveSave