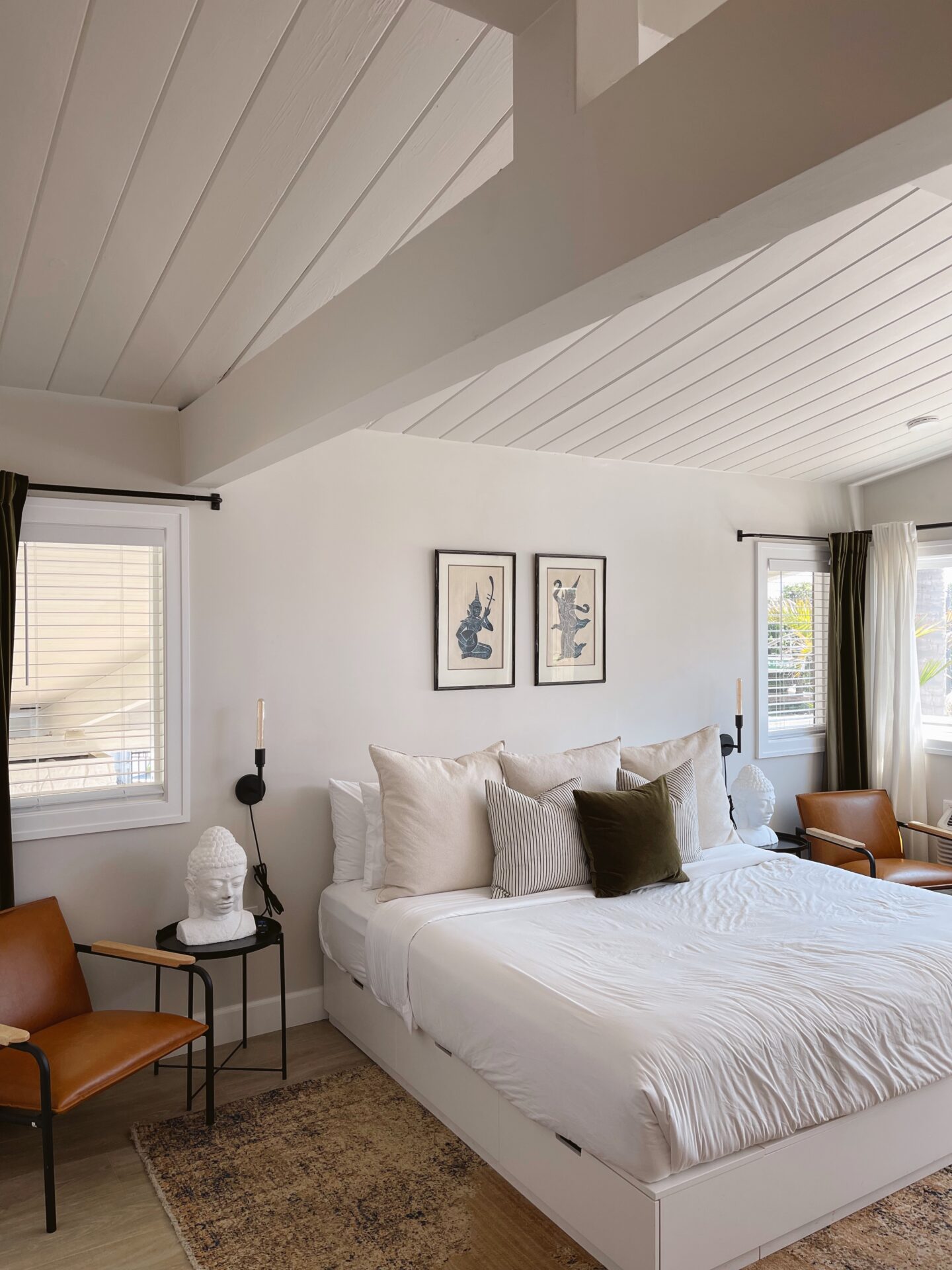 Bryan and I recently took a 24 hour staycation down to Laguna Beach a few weeks ago. I had a campaign to shoot for a brand and I needed a room that had beautiful natural light. I had found the Laguna Beach Loft on Instagram and instantly fell in love, so we booked the Romantic Ocean Loft & headed on our way. The experience was similar to an Airbnb, I was in contact with the person who owned the location and they gave clear and easy instructions to have a self check-in/check-out. Upon arrival the loft was immaculate and the location was primeee! You have beautiful natural light coming into the room and right outside your balcony you have views of the ocean.
Aside from the loft being perfect, the location was even better. Laguna Beach during the summertime can be quite busy and crowded. The town is very small and can at times feel very crowded, but this loft was located in a quieter part of Laguna Beach, about a 12 minute drive from the town. However the food options were great and beach access was an easy walk across the street and down some steps.
We arrived at 1pm since the host was kind enough to give us an early check-in. This allowed me to spend a few hours to knock out some work and give us the afternoon to enjoy some beach time. In order to reach the beach access, you simply walk across the street and take some steps down, on your left will be the Montage Hotel and they have a public beach access. We walked down, grabbed a quiet area and had some fun in the sun.
Around dinner time we decided to walk over to La Sirena Grill for some dinner. The place was definitely a spot for the locals, you could tell. Since we had a beautiful patio, we decided to take our dinner to-go and enjoyed it while watching the sunset. As we waited for our food I grabbed a Cadillac Margarita and Bryan grabbed a local IPA. The drinks were a 10/10 and the food…let's just say it did not disappoint one bit. We are positive nothing on this menu is a bad idea. We grabbed the nachos, a wet style burrito and tacos with chips and guacamole. LOL could you tell we were hungry? To end the perfect afternoon, the sunset decided to show off. :')
The next day we woke up early, grabbed some coffee and headed out on a morning walk. Our checkout was around 12pm so we packed up our things and said goodbye to our room. We got dressed and decided to have breakfast at Heidelberg Cafe before heading on home. We left with a full belly and happy heart…will definitely be back!