Ahh..shoes the way to my heart. I usually style my #OOTD (Outfit of the day) around what shoes I feel like wearing that day. In my opinion, the shoes to an outfit make it or break it. Lately I've been all about comfort, as much as I love my heels realistically I just don't wear that everyday. When winter rolled around, I realized my closet was filled with sandals, mules or sneakers. Oops, I only had 1 pair of pointy black boots that hurt my feet so I dreaded wearing them.
I focused on stepping up my boot game this season. I want to share with you some of my favorites, that I've found myself wearing on repeat this month. Starting with the Harley Combat Boots, which would be perfect for my everyday girl! This season it seems that the hottest shoes are the Doc Martens, they are trending big time in LA! But to be honest, your girl is on a budget & although I would consider them a classic, I couldn't bite the bullet on the price. So when I saw these I knew they would be perfect and to be honest these are probably more comfortable. They can add that pop of edge to a girlier look, or be the perfect balance to an oversized blazer.
For my everyday girl but with a twist, these Platform Combat Boots are so fun! The neutral color help with easily pairing them with any outfit, but the shape of the boot adds a little street style edge!
For my fierce gal who is here to make a statement, these over the knee snake boots are for you! I loved pairing them with a neutral fit, like the one below or if you really want them to stand out pair them with an all black outfit to have them pop! The chunky heel makes them comfortable enough to walk around town and have people turn heads. 😉
Next up these white stretched slouchy boots could easily go from your winter outfits to spring. I love the pop of white, & the slight pointed toe and block heel allow ultimate comfort. These could be for my classic/vintage babe who is looking for a pair that you can keep in your closet for a couple of years. The material is a smooth leather that elevates your outfit to the next level.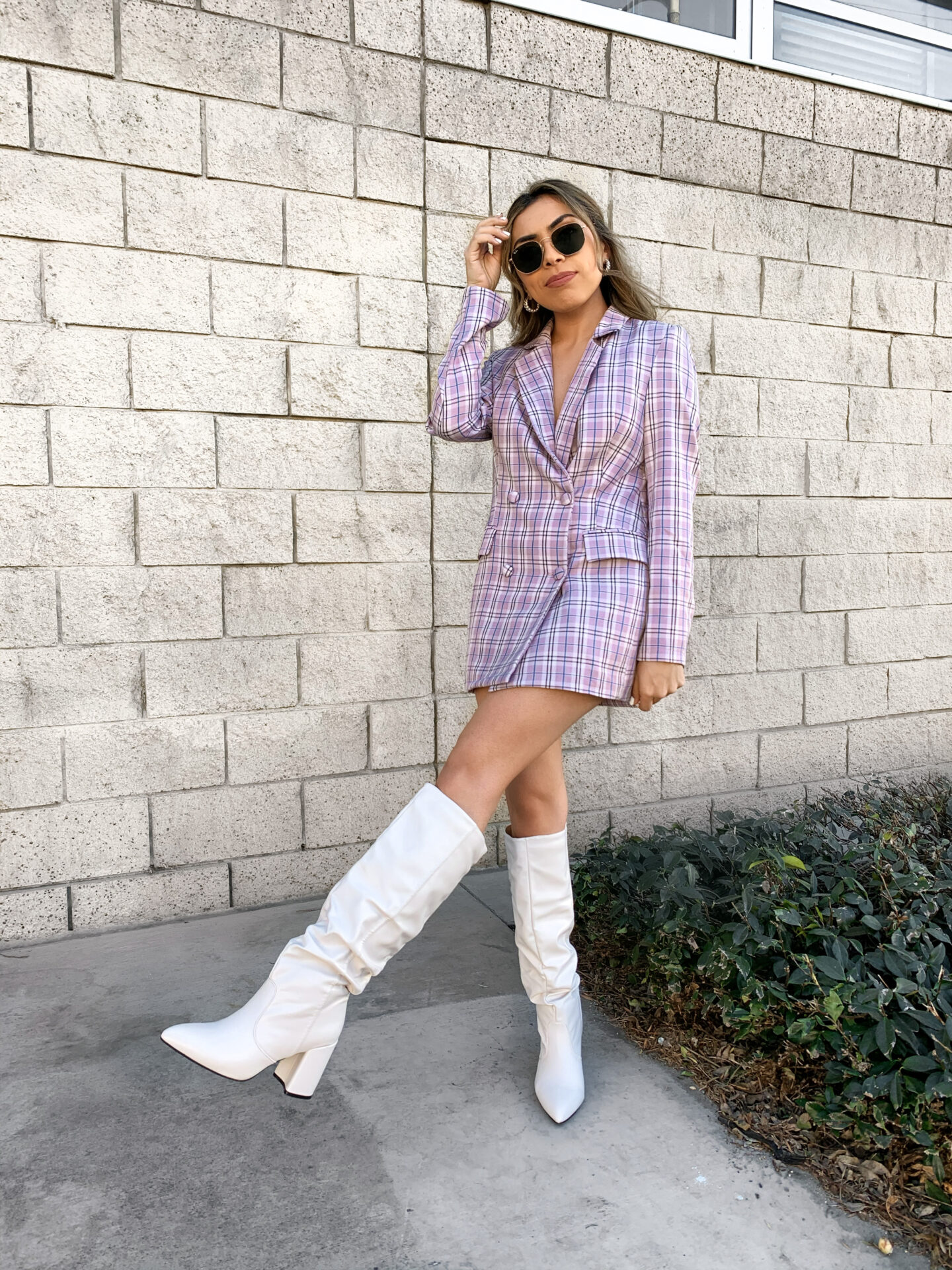 Last but not least I wanted to share with you my new date night booties. These spice up the classic black bootie with the lace detailing on the slim silhouette. They would pair with jeans and an oversized flannel for a brewery date or with a classic black dress and leather jacket for a going out look.
These boots have definitely spiced up my boot collection this season. I hope you find a pair that stood out for you and that you feel inspired to try and style yourself. Remember, style is meant to have fun so make sure that whatever you decide to wear today brings a smile to your face!
xox,