Denim & I have always had a love/hate relationship, until recently. I no longer dread shopping for denim, I now have the problem of having way too many! Well, that's not necessarily a problem is it? 😉
What's changed, you may ask? I learned what denim is flattering on my body and what simply doesn't work. For reference to sizing; I am about 5'4 and wear a size 24/25, I have a long torso but shorter legs so I mainly wear high-waisted and cropped or ankle. In this post I will give you a few different examples of jeans I love for myself, on each photo I'll link the exact denim I am wearing too just in case you feel like shopping. Let's dive right in with one of my favorites.
I recently tried on my first pair of YMI denim, and was amazed by how comfortable they are! I'm a size (1) in their jeans, and the ones above are high-waisted ankle flares. I think cropped flares are quickly becoming one of my favorite styles, but since I am so short I have to wear them with some sort of heel in order to make my legs look longer.
Another favorite of mine are high-waisted skinny's. Unless I'm bloated these 7Fam are my go-to haha! Their denim has a lot less stretch so I plan on not eating carbs if I'm going to wear them. A key thing to look for when shopping for ankle skinny's is that the end of the denim hit you right at the ankles without you having to cuff them. I see old pictures of myself wearing cuffed denim and it makes me cringe! Yeek. If you're petite like I am that means having to get them hemmed at times, but I really believe it's worth it to get the ultimate look!
A combination you can always count me in for is denim on denim. Oh yea, I can rock a Canadian suit any day in so many different ways. This jacket above, is made out of soft denim and it just falls so easily over my shoulders.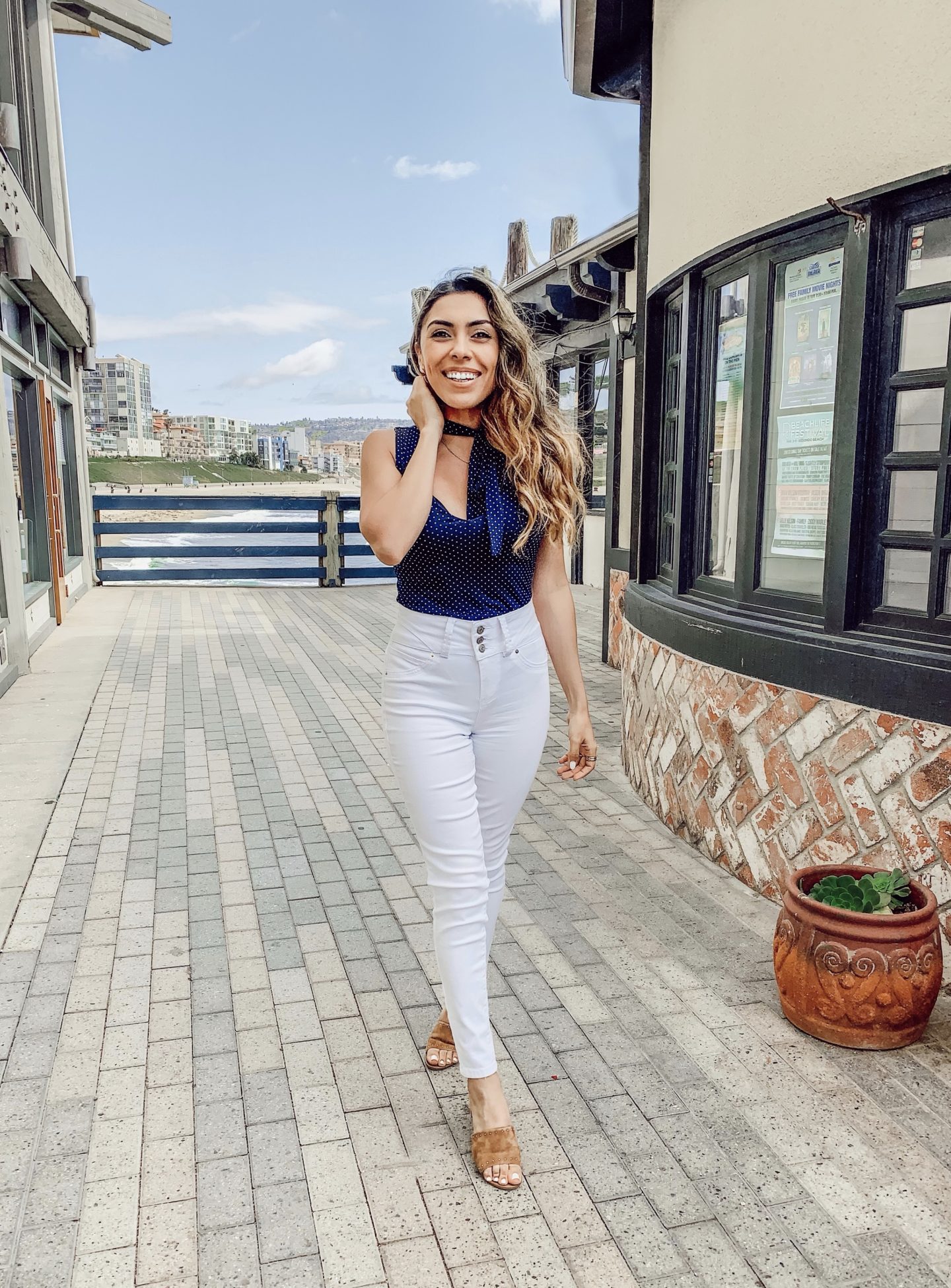 Ah, gotta love a crisp pair of white denim! I love wearing them all Spring/Summer. But white denim is one of the hardest to shop for because in a lot of them you can see through them, Yikes! (Nothing worse than when you're wearing red undergarments and you realize your pants are see through once you're out and about…Yep, it's actually happened to me.) Anyways, these passed the test and not only that, the 3 button detail is super flattering on the waist.
I love the wash of this pair, I can't wait to style them in different ways. They are high-waisted, straight leg. The straight leg simply means that they aren't skin tight along the legs. These are also made of a soft denim, so they are super comfortable.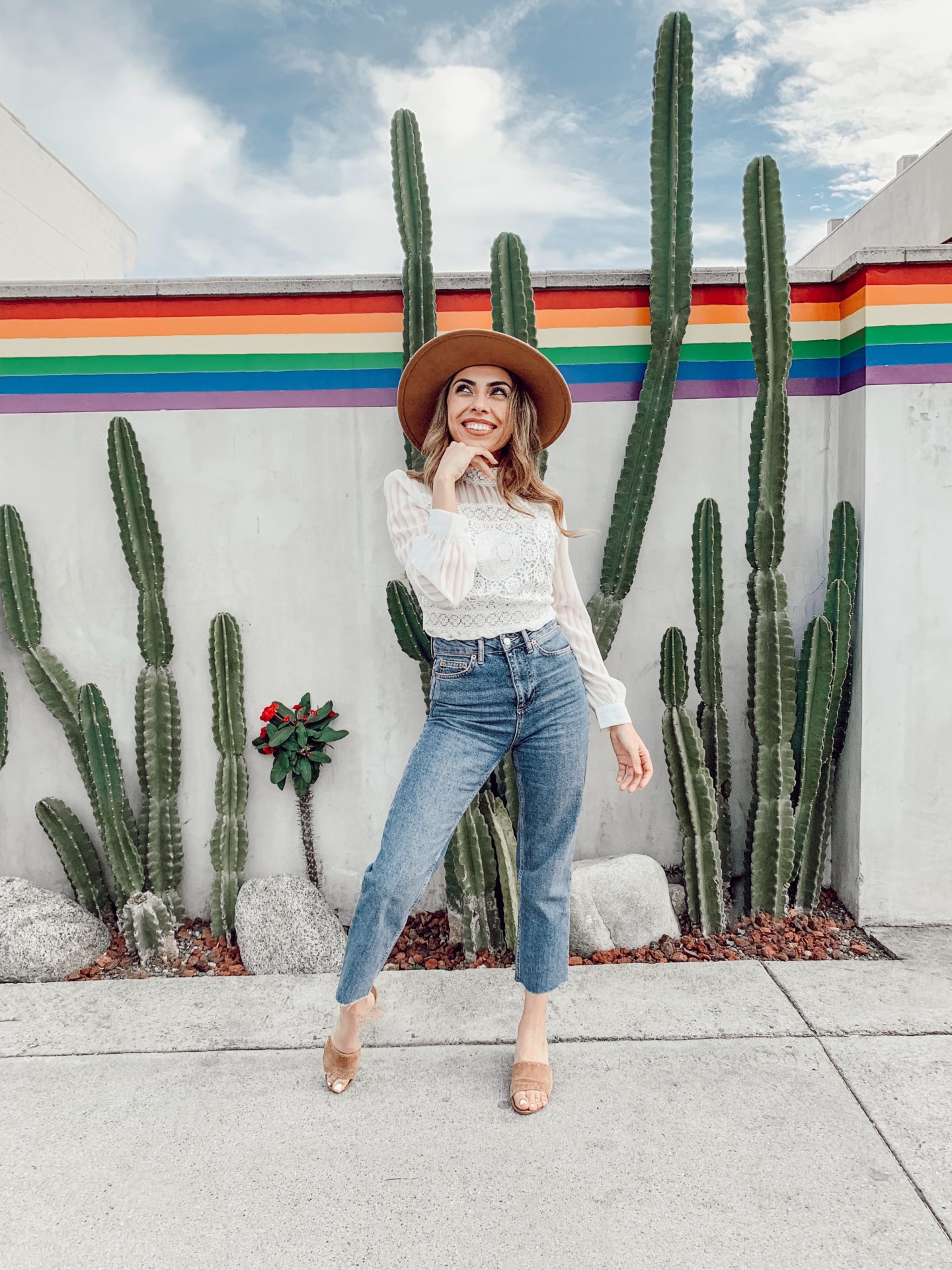 Ultimately, the best way for you to know what denim fits your body best is to go try on every style out there. If the idea sounds dreadful to you, here's a tip that helps me. I put myself together before going to the store, I make sure I feel pretty so that I'm approaching the day confidently. Also, be aware of when you're going, make sure you're not bloated and don't go right after you've had 3 slices of pizza. Make shopping fun, and make sure that you feel confident in what you put on your body. Otherwise, it's simply not worth the money. If you look great, you'll feel great! 🙂
xox,