Happy weekend my friends, haven't been on here in a while and I want to make sure that I change that, I miss talking to you all so much. So I decided I want to start something called Monday Must-Haves. I'll do a round-up of outfits I've been wearing on Instagram, and I'll link my favorite pieces for you! If you've been following me for the past few months, you may have noticed that I've been wearing a lot of pieces from @shoptresvu. It's an online shop run by one of my dearest friends Kris, she hand selects her favorites and sells them on her website, Tres Vu. She and I love collaborating together, and I just knew that I had to show you my favorites, for today's first round-up.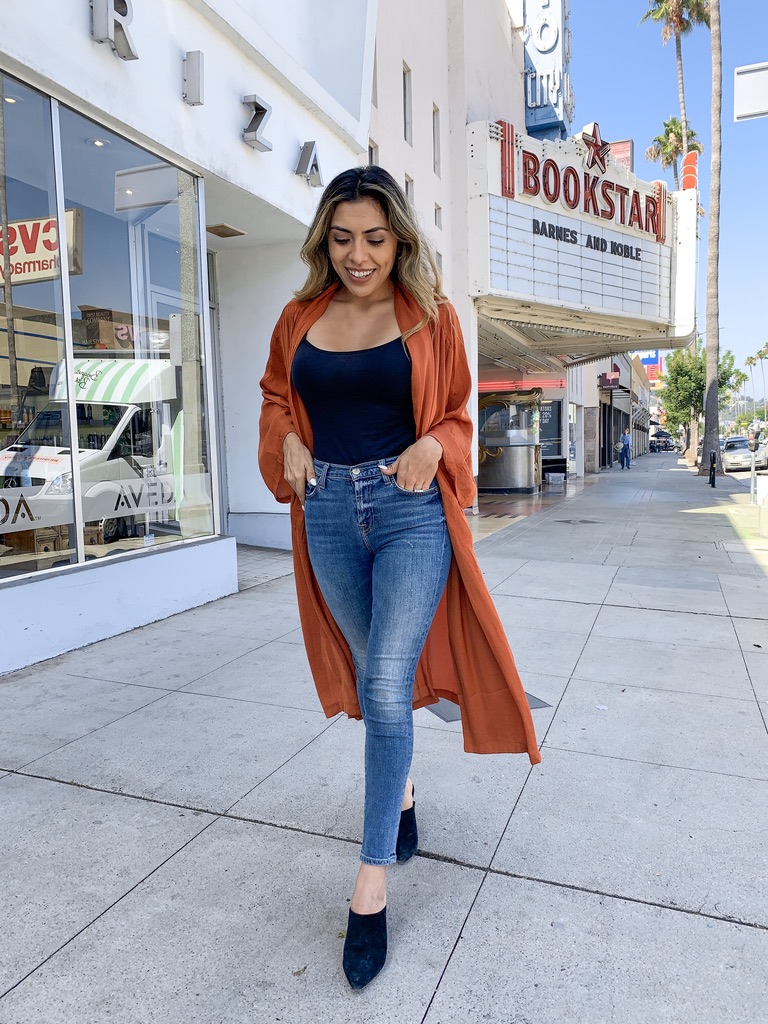 Like this duster for example, can we say WOW! The color, the silkiness, and the length are PERFECT. The easiest way to style a duster in the fall is with skinny jeans, a fitted top, and some heels. I'm a shorty so I like wearing something fitted underneath the duster and a heel of some sort so that the oversized duster doesn't take over. Shop it here.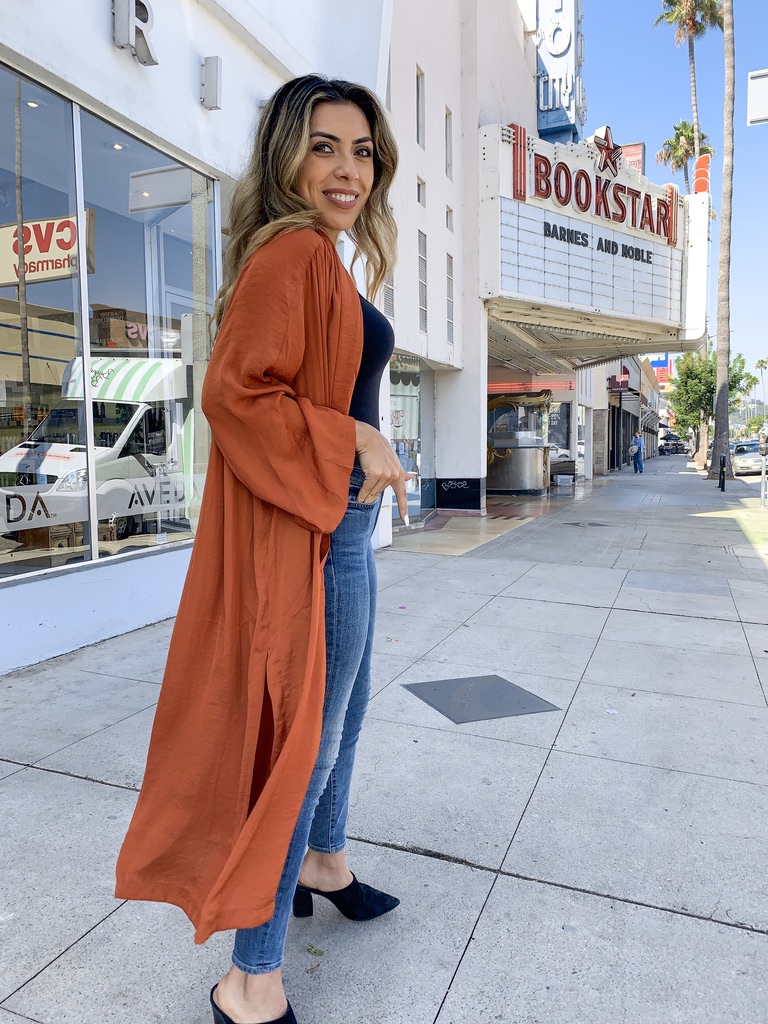 Next up, I want to show you this cute top in the perfect shade of pink that can be worn in the summertime as well as bring it into fall with some layers. It's a cropped fit, so would be paired best with high waisted jeans or a skirt. The cap sleeves can be worn up or off-shoulder. I wore it for a coffee date with some jeans and low heels. Shop it here.
One of my favorite pieces is this floral skirt. I can restyle this in a million ways. Firstly, I loved the print and shade of blue, I'm also a sucker for a high slit, and this one hits just right. I paired it with a high neck knit top, some brown heels and this pearl bag, also from her shop. Shop the skirt here, and the purse here.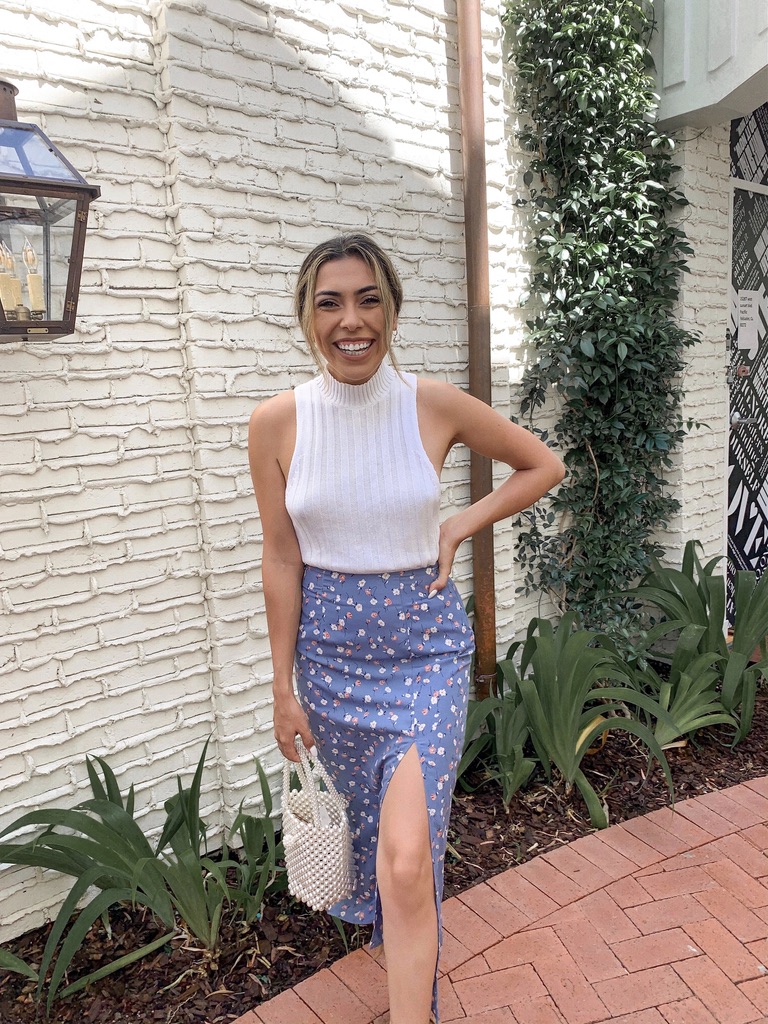 This is another item that you can wear from Summer to Fall. I wore it in the summertime as seen below, as is and paired with some of my favorite sneakers for a full day of exploring around the city. But when I first saw this I envisioned it with a black long sleeve and over the knee boots for a fall look. I'll just have to restyle it once the L.A weather cools down. 😉 Shop it here, p.s it's on major sale!
Ahh…another one of my favorites…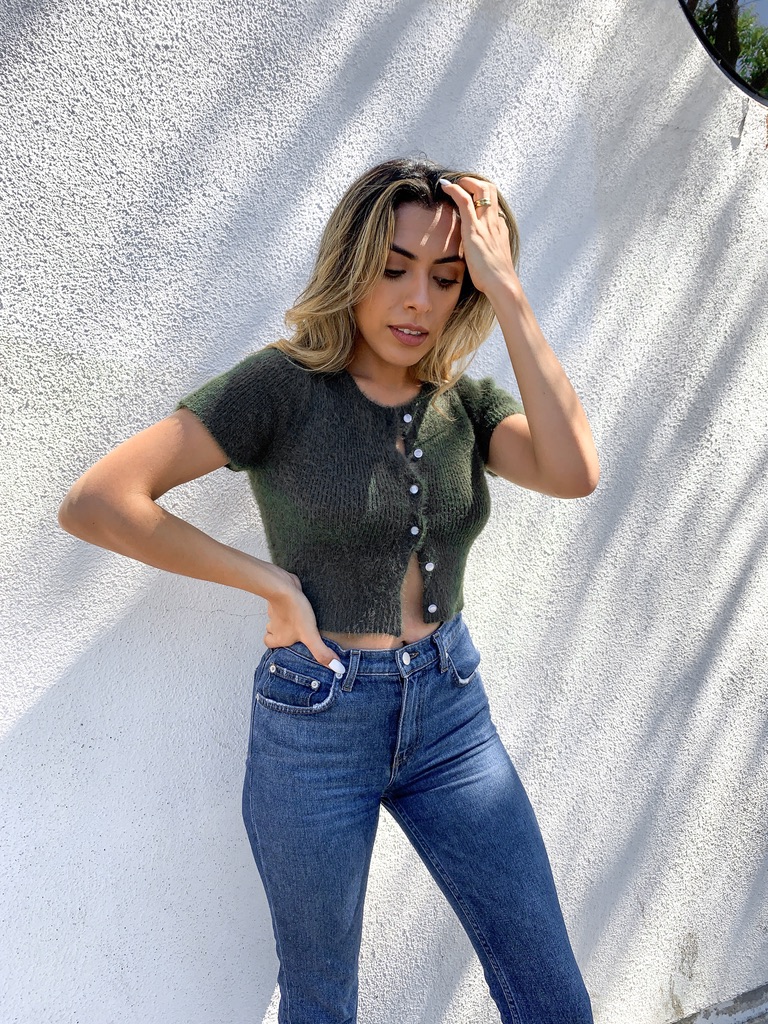 I melt for this furry button-up sweater. It's the softest material, cropped and gives me all the 90's vibes. Shop it here.
That was today's first round-up, I hope you enjoyed it and can look forward to seeing a new post on here every Monday. I've been feeling so passionate about my writing lately and am excited to come up with creative new ways to share all my ideas with you. I hope you had a kick-ass Monday!
xox,